International, Slovakian, Austrian & Croatian Champion
Young Italian Champion
Ch.Winalmik's El Diablo Rojo
"Paco"
HD - A, Eyes free.
Refrigerated semen available
Top Italian Young Siberian Husky 2003 & 5 All Breeds
Multi BOB, CACIB & CAC Winner, Young Italian Champion,Top Young Italian Siberian 2003 & 5 all breeds, winner of Intermediate class European in Bratislava, Best Juniores Specialty Winner, R. BIS Juniores, 3° BIS Juniores ( Club Show for Nordic Breeds), multi young class Specialty winner.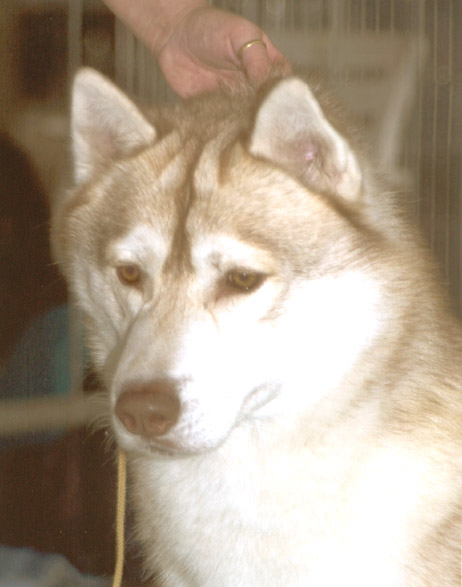 Masculine & tipical head type...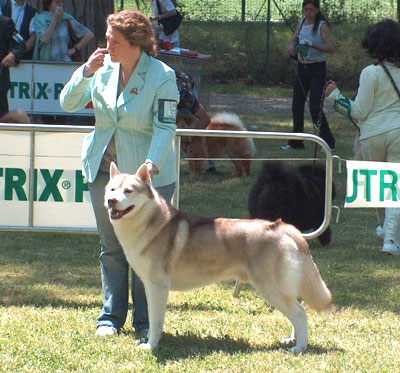 3 years old, matured in a beautiful and impressive dog!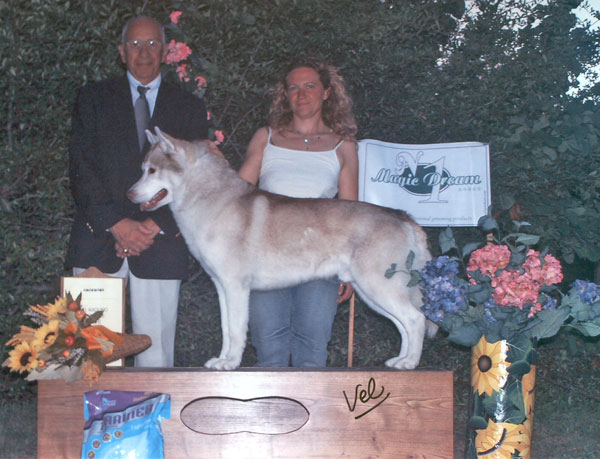 Clubshow Bastia Umbra 2005, Judge Mr. Buoniello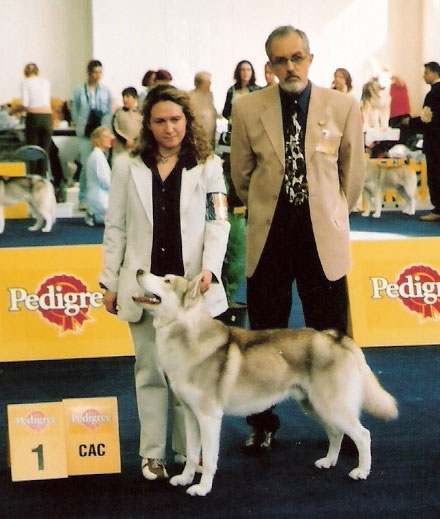 ....winning European championship in Bratislava 2003, Intermediate class & new Sk champion!!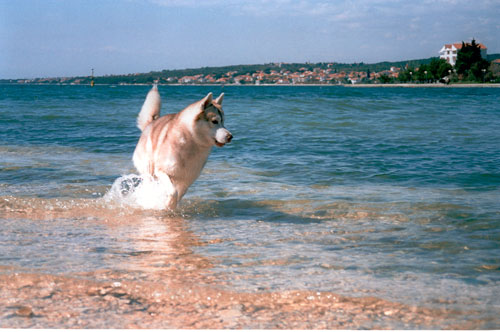 We are very proud to have breeded such important dog. "Paco" is at most size of the Standard, but he is moderated and balanced in his topline. He is a nice mover, powerfull. His head is masculine but pretty, his temperament is friendly & happy. "Paco" is also a very good stud, produced for us excitant litters. His bloodlines is a combination of Arlington and Kaila....See him on the International Rings near you in the future!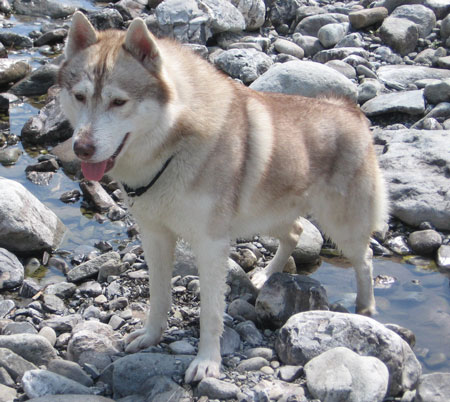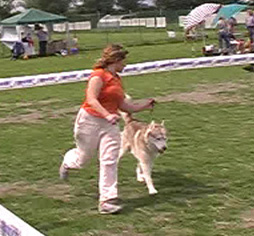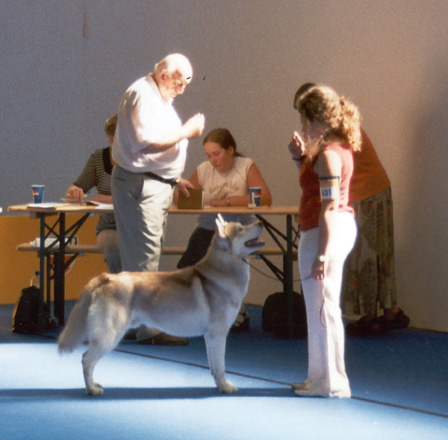 15 months old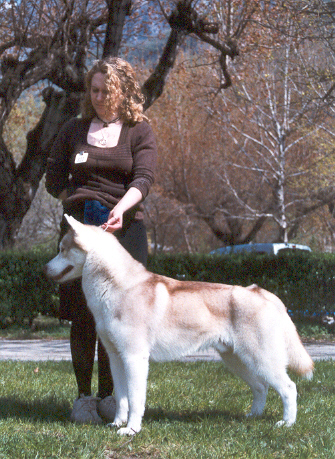 Pictured at 14 months old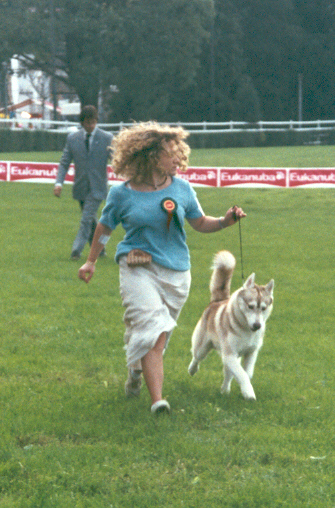 Male, Red/White, Brown Eyes, Born on 07/02/2002
Offsprings:
Ch. Winalmik's Coral Sea At Torquemada
Winalmik's Come Il Sole All'Improvviso
PEDIGREE
Paco

Ch. Sahara's Wind Riders

Ch. Arlington's Firekrakr

Ch. Frantasia's Bit Of Fire

Ch.Arlington's Krakryak Kris

Sun Howl Silent

Ch.Aazar's Rocky MT High

Toscas

Ch.Winalmik's Elements Of Style

Ch.Kaila's Pride O'Style

Ch.Kaila's Baccarat

Kaila's Mountain Spirit

Ch.Sierra Firesun O'Sea- Son

Ch. Arlington's Firekrakr

Sun Howl Silent
Breeder & Co- Owner: Winalmik Siberians
Owner: Gino & Annamaria Guasti, Sorbolo (Parma)
Anatomyc measure/ Misure anatomiche
(from Vetogene, Enci recognized/ Dal Vetogene, riconosciuto Enci)
Altezza al garrese/Height at withers : 59,60 cm
Testa/ Head
Lunghezza totale/ Total Lenght : 23,00 cm
Lunghezza cranio/Lenght skull: 12,50 cm
Lunghezza muso/ Lenght muzzle: 10,50 cm
Larghezza cranio/ Widht skull: 13,00 cm
Larghezza muso/ Widht muzzle: 6,13 cm
Altezza muso/ Depth muzzle: 8, 10 cm
Collo/Neck
Lunghezza/ Lenght: 20,00 cm
Perimetro/ Perimeter: 41,00 cm
Tronco/Body
Lunghezza Totale/ Total lenght: 65,70 cm
Perimetro Torace/ Perimeter chest: 70,00 cm
Altezza gomito/ Lenght elbow: 30,50 cm
Altezza garretto/ Lenght hock: 18,20 cm
Altezza torace/ Lenght chest: 29,10 cm
Lunghezza groppa/ Lenght croup: 15,70 cm
Larghezza groppa/ Widht croup: 13,00 cm
Best Results:
Champion class:
1° Exc. Caca Austrian Clubshow 31/07/05 Judge Mr. Zimmermann (A)
1° Exc. Cac & R. Cacib Int. Zadar 01/05/05 Judge Mrs. Talvitje (FIN)
1° Exc. Cac Cacib & Bos, NEW INT. & CRO. CH!!! Int. Zadar 30/04/05 Judge Mr. Kuzely (SLO)
1° Exc. Caca & R.Cacib Int. Innsbruck 21/08/04 Judge Mrs. Delaquis (CH) NEW AUSTRIAN CH.!!!!
1° Exc. Caca Cacib & Best Of Opposite Int.Oberwart 17/07/04 Judge Mr. Schimpf (A)
1° Exc. Cac Cacib & Best Of Breed Int. Zadar (Hr) 02/05/04 Judge Mrs. Steinbock (Isr)
1° Exc. Cac & Res. Cacib Int. Zadar (Hr) 01/05/04 Judge Mrs. Van Mechelen (B)
Intermediate & Open Class:
1° Exc. CAC Nat. Parma 02/06/05 Judge Mr. Buratti (I)
1° Exc. CAC Nat. Pavia 15/05/05 Judge Mrs. Liljeqvist (S)
1° Exc. CAC Int. Firenze 21/05/2005 Judge Mr. Vuorinen (FIN)
2° Exc. R.Caca Int. Salzburg 15/05/04 Judge Mr. Deutcher (A)
1° Exc. Cac & Res. Cacib Int. Sanremo 04/04/04 Judge Mr. Capra (I)
2° Exc. Res. Cac Int. Genova 12/11/03 Judge Mr. Barenne (F)
1° Exc. Cac & New Slovakian Ch!! European Dog Show Bratislava 3/10/03 Judge Mr. Miroslav (Slo)
1° Exc. Cac Cacib & Bos Int. Varazdin 28/09/03 Judge Mrs. Szylaghi (H)
1° Exc. Caca Int. Innsbruck 03 Judge Mr. Stift (A)
2° Exc. Res. Cac Int. Empoli 06/09/03 Judge Mr. De Giuliani (I)
1° Exc. Cac Cacib & Best Of Breed Int. Bratislava 17/08/03 Judge Mr. Csepai (H)
2° Exc. Res. Cac Int. Bratislava 16/08/03 Judge Mr. Havelka (SK)
1° Exc. Cac Austrian Clubshow 13/07/03 Judge Mr. Urosevic (Yu)
2° Exc. Res. Cac Int. Oberwart 12/07/03 Judge Mrs. Lammers (D)
1° Exc. Cac Int. Novigrad 21/06/03 Judge Mrs. Kirchbilcher (A)
Young Class:
4° Exc. World Dog Show Dortmund 29/05/03 Judge Mrs. Moe (Sfr)
1° Exc. & New Young Italian Champion! Nat. Prato 25/05/03 Judge Mr. Rivolta (I)
1° Exc. Nat. Albenga 11/05/03 Judge Mr. Buratti (I)
1° Exc. Int. Rapallo 04/05/03 Judge Mr. Mangiafico (I)
1° Exc. Int. Mantova Specialty Show 08/03/05 Judge Mr. Buratti (I)
1° Exc. Int. Ancona Specialty Show 22/02/03 Judge Mr. Bernardini (I)
1° Exc. Int. Montichiari 02/02/03 Judge Mr. Renai Della Rena (I)
1° Exc. Int. Verona Specialty Show 30/11/03 Judge Mr. Buratti (I)
Juniores Class:
1° Very Promising Best Juniores & 3° Best In Show Clubshow Bastia Umbra 12/10/03 Judges Mr. Harsany (H) & Mr. Buratti (I)
1° Very P. Best Juniores & Reserve Best In Show Int. Varese 28/09/03 Judge Mrs. Marit (Sfr)
1° Very P. & Best Juniores Annual Specialty San Sepolcro 07/09/03 Judge Mrs. Cook (Usa)