<![if !supportEmptyParas]><![endif]>
BISS International, Austrian & Reproducer Champion
<![if !supportEmptyParas]><![endif]>
Ch. Winalmik 's Elements O' Style
"Nala"
BIS Puppy Clubshow winner
BISS Veteran winner
Multi Cac, Cacib, BOB and Group placement winner
HD-A , Eyes clear
04/04/1996 - 02/04/2011
<![if !supportEmptyParas]>
<![endif]>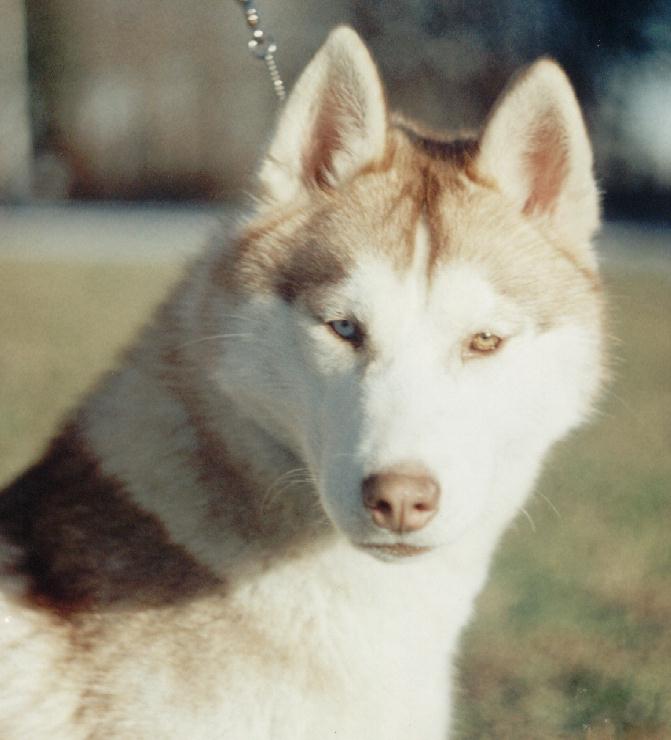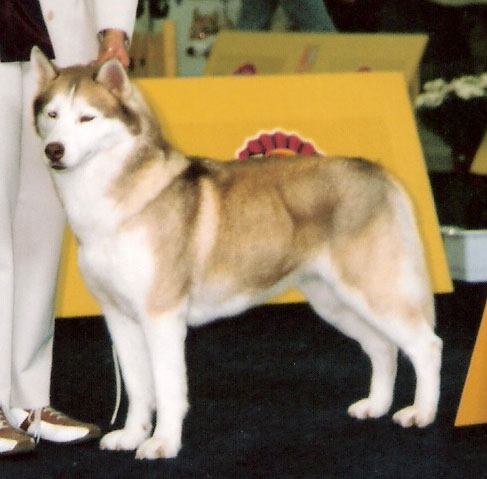 Femmina rossa e bianca occhi impari , nata il 01/05/1996 , una delle migliori figlie della nostra " Sierra "( da cui eredita una notevole presenza di ring , equilibrio e movimento ) e di " Kail "un tipicissimo figli del CH. Kaila's Baccarat . " Nala " debutta al Raduno CIRN di Genova 96' dove ottiene il BIS puppy . Successivamente in giovani risulta SEMPRE eccellente e piazzata , con 7 primi , 9 secondi , 6 terzi e un quarto . In libera , sempre nei primi posti , ottiene diversi CAC , CACIB e BOB , compreso il BOB all'Int. di Torino 99' dove inizia il suo campionato Internazionale , conclusosi nel febbraio 2000 a Basilea con il suo CAC CACIB BOS , e proclamandola CAMPIONESSA INTERNAZIONALE .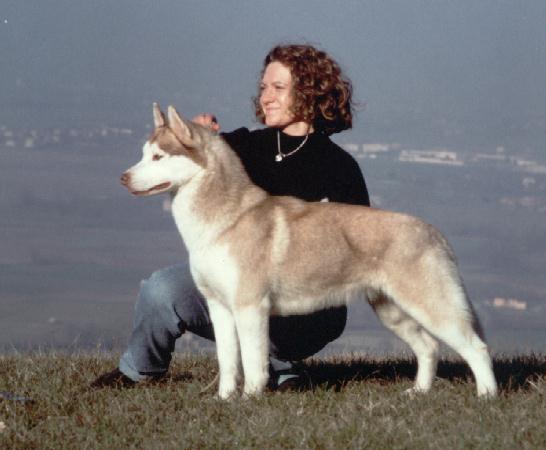 <![if !supportEmptyParas]><![endif]>
Female red and white party color eyes born on 01/05/1996 , one of the best daugther of our "Sierra" ( from who inherit the show ring attitude , balance and muvement ) and "Kail" a typical son of CH. Kaila's Baccarat . "Nala"debut is at the Specialty Club CIRN in Genova 96' where she gained BIS puppy . Than , in young class, was ALWAYS excellent and placed , with 7 first place , 9 second place , 6 third place and 1 fourth . In open , always in the first place , gained many CAC , CACIB and BOB incluse the BOB at the Int. of Torino 99',where she start her campionship , finish in great style in Febuary 2000 at the International of Basel , so now she is INTERNATIONAL CHAMPION.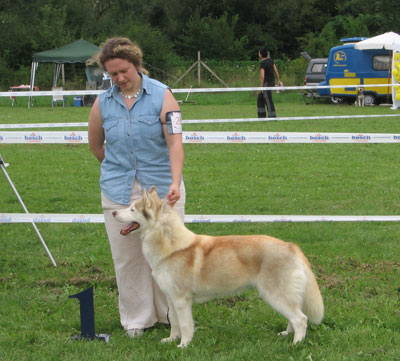 Pictured at 9 years and half old, BISS Veteran & BOS Austrian Clubshow Hartberg 2005, Judge Mr. Zimmermann (A)
<![if !supportEmptyParas]><![endif]>
<![if !supportEmptyParas]><![endif]>
<![if !supportEmptyParas]> Offsprings:
Ch.Winalmik's Grey Moon Of Snowy Grove
Winalmik's Acqua Marina<![endif]>
<![if !supportEmptyParas]>
PEDIGREE
Nala

Ch.Kaila's Pride O'Style

Ch.Kaila's Baccarat

Ch.Kaila's Red Zinger Of Innisfree

Kaila's Mountain Mistique

Kaila's Mountain Spirit

Kaila's Genuine Bleu

Ch.Kaila's Mountain Mist

Ch.Sierra Firesun O'Sea- Son

Ch.Arlington's Firekrakr

Ch.Frantasia's Bit Of Fire

Ch.Arlington's Krakrjak Kris

Sun Howl Silent

Ch.Aazar's Rocky MT High

Toscas
Breeder, Owner & Handler: Winalmik Siberians

Anatomyc measure/ Misure anatomiche

(from Vetogene, Enci recognized/ Dal Vetogene, riconosciuto Enci)

Altezza al garrese/Height at withers : 53,00 cm

Testa/ Head

Lunghezza totale/ Total Lenght : 21,50 cm

Lunghezza cranio/Lenght skull: 12,00 cm

Lunghezza muso/ Lenght muzzle: 9,50 cm

Larghezza cranio/ Widht skull: 12,00 cm

Larghezza muso/ Widht muzzle: 6,00 cm

Altezza muso/ Depth muzzle: 8,00 cm

Collo/Neck

Lunghezza/ Lenght: 22,00 cm

Perimetro/ Perimeter: 39,00 cm

Tronco/Body

Lunghezza Totale/ Total lenght: 61,00 cm

Perimetro Torace/ Perimeter chest: 64,50 cm

Altezza gomito/ Lenght elbow: 29,00 cm

Altezza garretto/ Lenght hock: 17,80 cm

Altezza torace/ Lenght chest: 24,00 cm

Lunghezza groppa/ Lenght croup: 15,80 cm

Larghezza groppa/ Widht croup: 12,50 cm

Best Results

Veteran class

1° Exc. BISS Veteran & BOS Austrian Clubshow 31/07/2005 Judge Mr. Zimmermann (A)

1° Exc. Annual Clubshow 03/09/2004 Judge Mr. J.Linnehan (Usa)

Champion Class

1° Exc. CACA BOS & NEW AUSTR. CH!! Austrian Clubshow Oberwart 14/07/01 Judge Mr. Schimpf (A)

1° Exc. CACA Int. Oberwart 13/07/02 Judge Kolbe (D)

2° Exc.R.CACA Austrian Clubshow 16/01/01 Judge

1°Exc. CACA R.CACIB Int. Wieselburg 07/04/01 Judge Mrs. Heold (A)

Open Class

1° Exc. CAC CACIB BOS Int. of Munchen 04/03/00 Judge Mr. Polig (D)

1°Exc. CAC R.CACIB Int. of Sanremo 15/04/2000 Judge Mr. Forte (IRL)

1° Exc. CAC CACIB BOS & NEW INT.CH.!! Int. of Basel 19/02/2000 Judge Mr. Kliebestein (D)

1° Exc. CACA CACIB BOS Int. of Oberwart 10/07/99 Judge Mr. Nigl (A)

2° Exc. R.CAC Int. Portoroz 19/06/99 Judge Mr. Sinko (SLO)

2° Exc. R.CAC European Dog Show Vien 16/05/99 Judge Mr. De Wilde (B)

1°Exc. R.CAC R.CACIB Int. St Gallen 09/05/99 Judge Mrs. Jensen (S)

2°Exc. R.CAC Nat. Montichiari 14/02/99 Judge Mr. De Wilde (B)

1° Exc. CAC CACIB & BOB Int. Torino 07/02/99 Judge Mr. Chamberlain (B)

2° Exc.R.CAC Int. Bellagio 04/11/98 Judge Mr. Martinez (ESP)

2° Exc.R.CAC Int. Varese 26/09/98 Judge Mr. Lethinen (SFR)

2° Exc.R.CAC Int. Ingolstad 27/06/98 Judge Mrs. Ubrova (SK)

1° Exc.CAC BOB & GROUP 2° Nat. Massa Carrara 14/06/98 Judge Adinolfi

2° Exc. R.CACA Int. Dorbirn 23/05/98 Judge Mr. Deutcher (A)

1°Exc. CAC & BOS Nat. Lodi 10/05/98 Judge Peinado (ESP)

1°Exc. CAC & BOS Nat. Legnano 19/04/98 Judge Mr. Cottavafi (L)

1° Exc. CAC & BOS Nat. Mantova 08/03/98 Judge Mr. Capra (I)

2° Exc. R.CACA Int. Wels 23/08/97 Judge Mr. Deutcher (A)

Young Class

1° Exc. BOS Nat. of Monza 12/10/97

1° Exc. Nat. of Savona 07/09/97 Judge Mrs. Mac Laubli (CH)

1° Exc. Nat. of Cuneo 20/07/97

1°Exc.Nat. of Massa Carrara 05/07/97 Judge Mr. Ammannati (I)

1° Exc. Nat. of Mondovi 01/06/97

1° Exc. Specialty Show Int. Empoli 03/05/97 Judge Mr. Bonetti (I)

1°Exc. Int. of Torino 02/03/97 Judge Mr. Renau (ESP)

Puppy Class

1° Exc Best Siberian Puppy & BIS PUPPY! Italian Clubshow Genova 29/09/98 Judge Mr. Voilet (F)

1° Exc. Best Siberian Puppy Italian Clubshow Bastia Umbra 12/08/98 Judge Mr.

<![endif]>

<![if !supportEmptyParas]><![endif]>

<![if !supportEmptyParas]><![endif]>

<![if !supportEmptyParas]><![endif]>

<![if !supportEmptyParas]><![endif]>

<![if !supportEmptyParas]> <![endif]>

<![if !supportEmptyParas]><![endif]>
Winalmik Copyright 2004
<![if !supportEmptyParas]><![endif]>
<![if !supportEmptyParas]><![endif]>
<![if !supportEmptyParas]><![endif]>
<![if !supportEmptyParas]><![endif]>
<![if !supportEmptyParas]><![endif]>