Italian, International, Croatian , Austrian , Reproducer Champion
Best In Specialty Winner
BISS Ch. KAILA'S SILVERBEAR OF ZAUSEL
"Silver"
HD - A , Eyes clear
Refrigerated semen available
BISS, RES. Best In Show, Group, BOB, Cac, Cacib winner.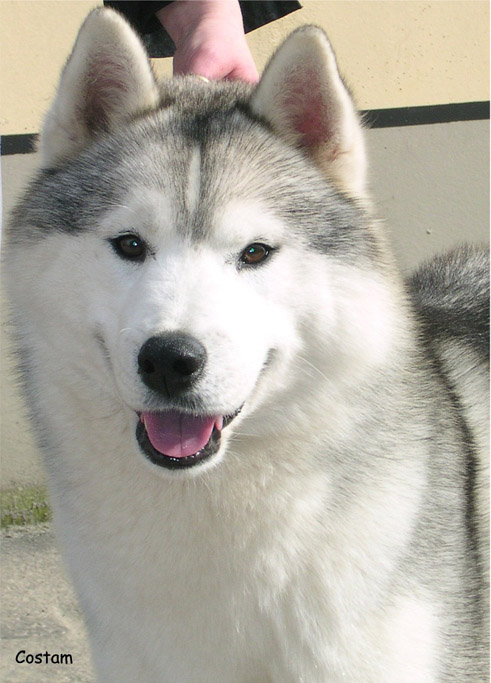 "Silver" born on Kaila Kennel on 12 March 2000. He is a very excellent representative of the breed. His type is sweet and pleasant, his movement is powerful and elegant, his topline is balanced. All these charateristics together make Silver a very moderated dog. We are really proud to have him in our Kennel. We have also to remember his pedigree. He is in linebreeding on Ch.Kaila's Baccarat and His grandfather is Ch. Tullemore's Copyright.....His offsprings give and idea about that this dog passed them.
Thanks Sylvia Gusinde gived us the possibility to have such a beautiful dog.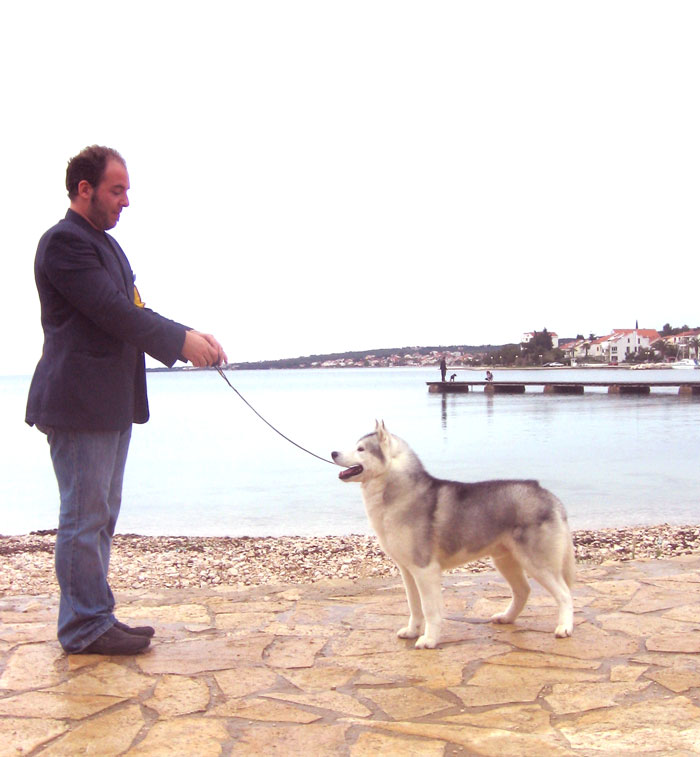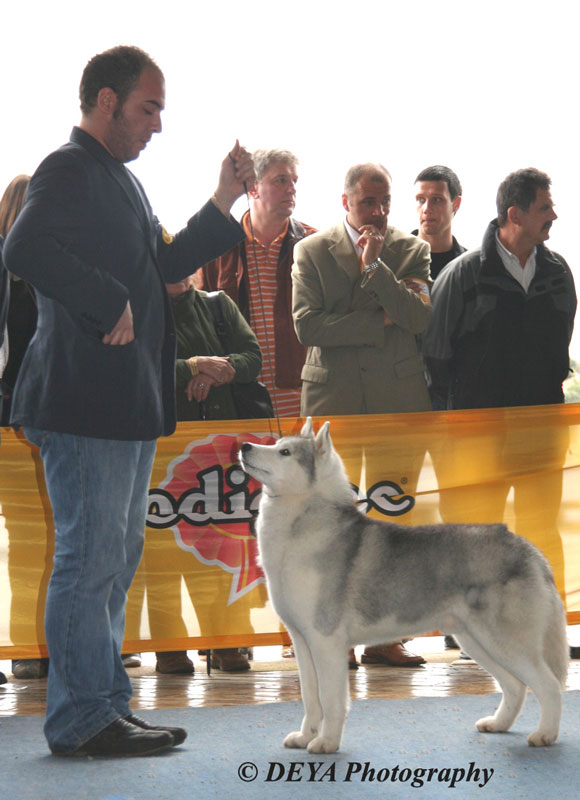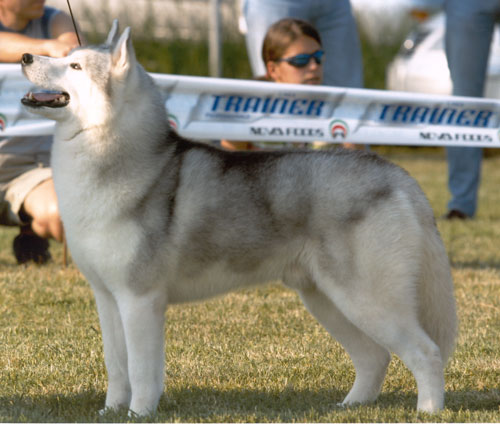 in stand....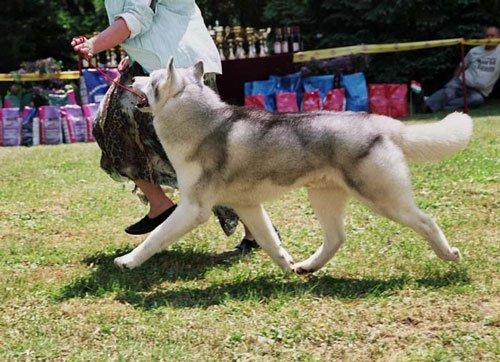 and on the move.....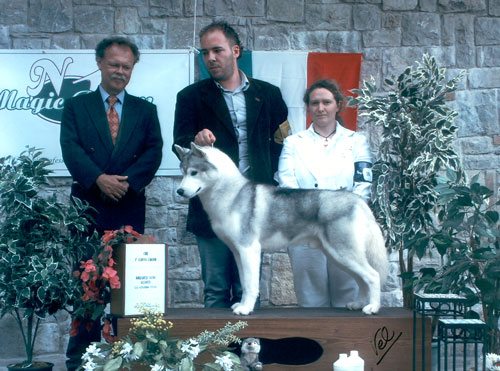 Annual Italian Clubshow 3/7/05, Judge Mr. Jennings, Silver is CAC!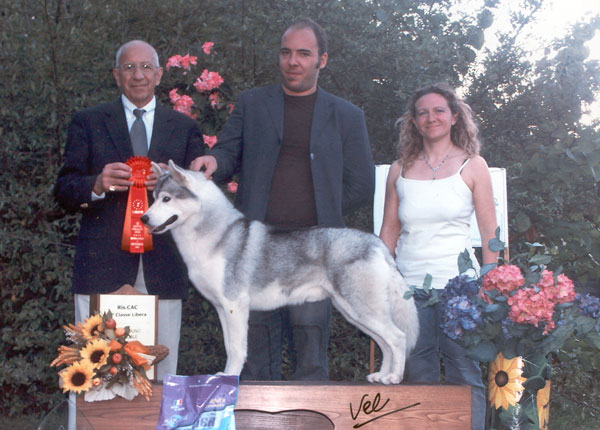 Annual Italian Clubshow 3/9/06, Judge Mr. Buoniello , Silver is R. CAC!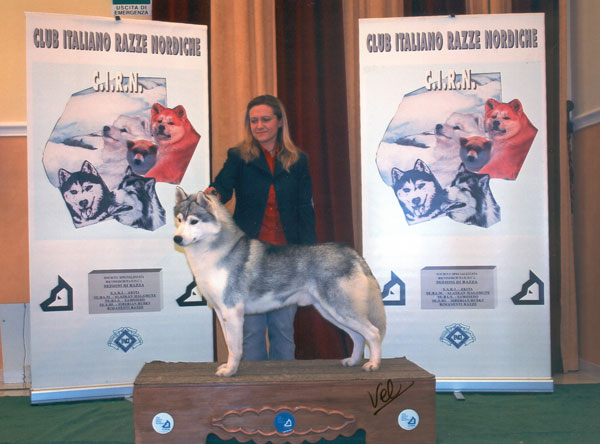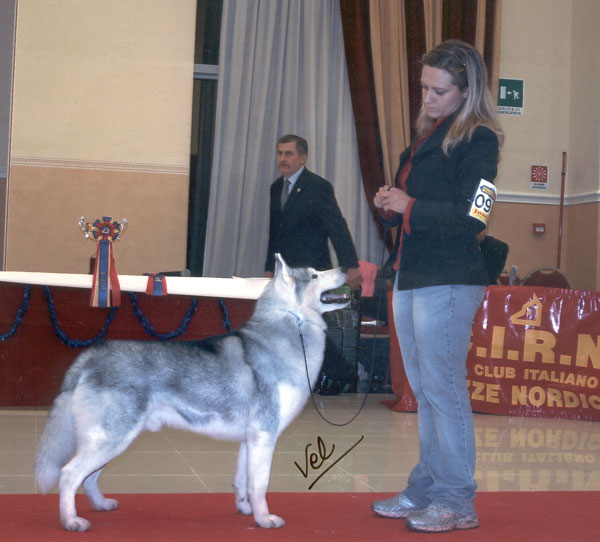 Monografica 2006 in Bologna , Judge Mr. Volker Schon , Silver is BISS, NEW ITALIAN CHAMPION!!!!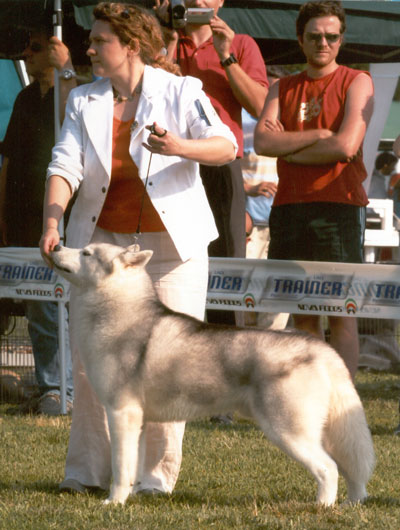 Parma National dog show, Silver is BEST OF GROUP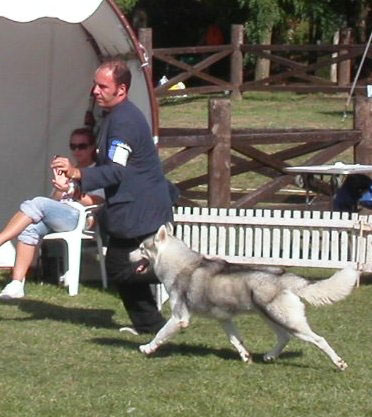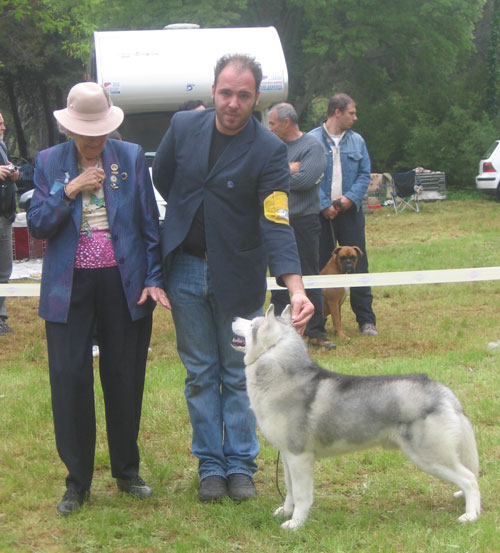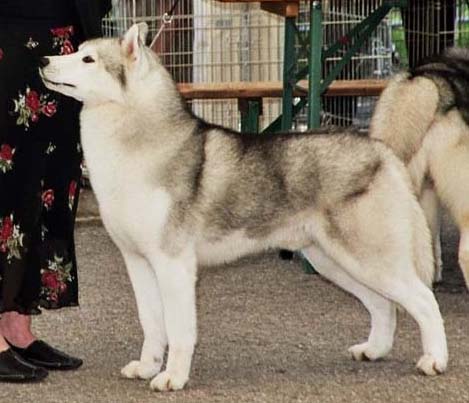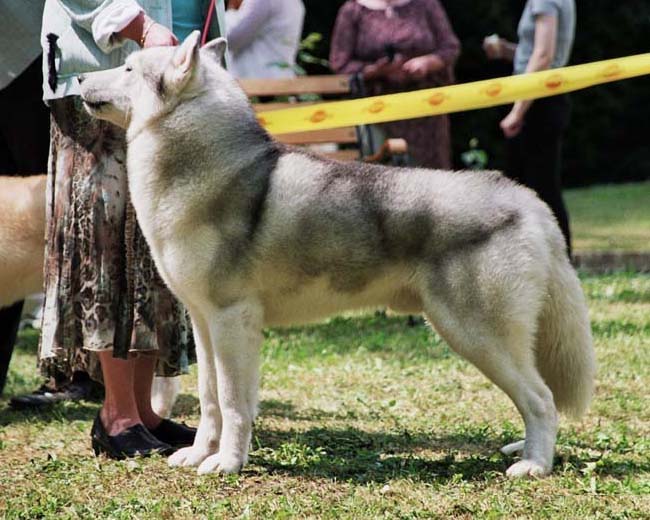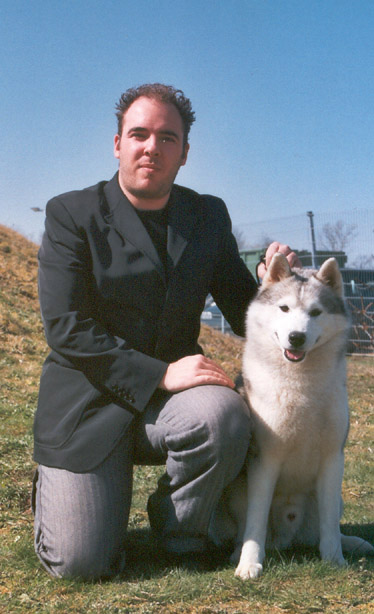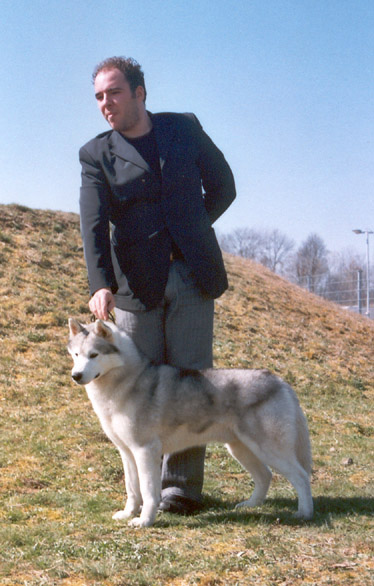 Male, Grey/White, Brown Eyes, Born on 12/03/2000
Offsprings:
Ch. Winalmik's Blu Vertigo Of Big Foot
Ch. Winalmik's Baby Revolutions Of Marook Ravine
Ch Winalmik's Fly In To The Future
J. Ch. Winalmik's Denny Rose
Ch. Winalmik's Red Hunter Of Shining Waters
Ch. Misty May Of Siberian Lady
Ch. X Ni Ra's Enya Of Snowy Grove
J. Ch.Torquemada's Peach And Cream
Winalmik's Deep Inside A Dream
Winalmik's The Other Side Of The Moon
Winalmik's Brilliant Adventure
Winalmik's Grows In To A Hurricane
Torquemada's Pookie Pocaontas
Winalmik's A Million Dollar Baby
Winalmik's Red Hot Chili Pepper
Snowy Grove's El Nino Of X Ni Ra
First Day Of Summer For Winalmik
Torquemada's Preview Of A Success At Winalmik
PEDIGREE
Silver

Ch. Kaila's Red Zinger O'Innisfree

Kaila's Mountain Mistique

Kaila's Nightshade

Ch. Pole - land's Regulus WOW

Kaila's Bittersweet

Tullemore's Point Of View

Ch. Tullemore's Keepsake

Kaila's From Russia With Love

Ch. Kaila's Baccarat

Kaila's Chambrae
Breeder: Richard & Pauline Price
Owner/ lover : Winalmik Kennel
Anatomyc measure/ Misure anatomiche
(from Vetogene, Enci recognized/ Dal Vetogene, riconosciuto Enci)
Altezza al garrese/Height at withers : 55,00 cm
Testa/ Head
Lunghezza totale/ Total Lenght : 22,00 cm
Lunghezza cranio/Lenght skull: 12,00 cm
Lunghezza muso/ Lenght muzzle: 10,00 cm
Larghezza cranio/ Widht skull: 12,60 cm
Larghezza muso/ Widht muzzle: 6,00 cm
Altezza muso/ Depth muzzle: 8,20 cm
Collo/Neck
Lunghezza/ Lenght: 20,00 cm
Perimetro/ Perimeter: 38,00 cm
Tronco/Body
Lunghezza Totale/ Total lenght: 60,50 cm
Perimetro Torace/ Perimeter chest: 64,00 cm
Altezza gomito/ Lenght elbow: 30,50 cm
Altezza garretto/ Lenght hock: 17,00 cm
Altezza torace/ Lenght chest: 25,00 cm
Lunghezza groppa/ Lenght croup: 15,00 cm
Larghezza groppa/ Widht croup: 11,60 cm
BEST RESULTS:
Champion Class
1° Exc. CAC R. CACIB Int. Szombathely (H) 22/07/2007, Judge Mr. A. Peinado (Esp)
1° Exc. CAC Hungarian Clubshow Kecskemet (H), 09/09/2006 Judge Mr. Parrondo (ESP)
2° Exc. R.CACA & NEW AUSTRIAN CHAMPION!!!! Int. Innsbruck (A), 26/08/2006 Judge Mr. M. Steimbacher (A)
1° Exc. BOB Nat. Laveno (I), 06/08/2006, Judge Mr. Bauchal (I)
1° Exc. CACA R. CACIB Int. Salzburg (A), 13/05/2006, Judge Mrs. P. Poduschka Aigner (A)
1° Exc. CAC CACIB BOB Int. of Zadar (HR) 01/05/2006, Judge Mrs. K. Kingston (AUS)
1° Exc. CAC R. CACIB Int. of Zadar (HR) 30/04/2006, Judge Mr. I. Selimovic (HR)
1° Exc. CACA BOB BISS Austrian Clubshow Drassmarkt (A) 16/10/05 Judge Mr. E. Deutcher (A)
1° Exc. BOB GROUP 2, Nat. Crocetta del Montello 26/06/05 Judge Mr. Balac Jovica (HR) & Adinolfi (I)
1° Exc. BOB BOG Nat. Parma 02/06/2005 Judge Mr. Buratti (I)
Open Class:
1° Exc. CAC BOB BISS NEW ITALIAN CHAMPION!!! Monografica Cirn 10/12/2006, Judge Mr. V. Schon (D)
2° Exc. R.CAC Annual Specialty 03/09/2006, Judge Mr. Vincent Buoniello (USA)
2° Exc. R.CAC Specialty Show Milano 28/01/2006 Judge Mrs. Manola Poggesi (I)
3° Exc. Specialty Show Vicenza 02/10/2005 Judge Mr. Anitra Cuneo (USA)
1° Exc. Cac Italian Clubshow 03/09/2005, Judge Mr. M. Jennings (USA)
2° Exc. R. Caca Austrian Clubshow 31/07/05, Judge Mr. Zimmermann (A)
2° Exc. R. Caca Int. Oberwart 30/07/05, Judge Mr. Volker Schon (D)
3° Exc. European Dog Show Vienna Tulln 05/06/2005 Judge Mrs. Kammerscheid Lammers (D)
1° Exc. Cac Cacib BOB & Group 2° Int. Zadar 01/05/05 Judge Mrs. Talvitje (FIN)
1° Exc. Cac Cacib Bos NEW INT. CH. Int. Erfurt (D) 02/04/2005 Judge Mr. G. Schaefer (D)
1° Exc.Cac Nat. Ivrea 7/11/04 Judge Mrs. Van Mechelen (B)
2° Exc.Res.Cac Int. Maribor 18/09/04 Judge Mr. Rotner (SLO)
1° Exc. Caca Int. Innsbruck 21/08/04 Judge Mrs. Delaquis (CH)
1° Exc.Cac & Res.Cacib Int. Szombathely18/07/04 Judge Mr. Kuzely (SLO)
2° Exc. Res. Cac & Cacib Int. Novigrad 19/06/04 Judge Mr. Gorajo (Por)
1° Exc. Cac & Bos Nat. Prato 06/06/04 Judge Mrs. Kirchbilcher (A)
1° Exc. Cac Cacib, Best Of Breed , Best Of Group & Reserve BIS Int. Zadar 01/05/04 Judges Mrs. Van Mechelen & Mrs. Steinbock
1° Exc. Cac & Res. Cacib Int. Viterbo 11/04/04 Judge Mrs. Miglietta (I)
1° Exc. Cac & Res. Cacib Int. Forli 07/02/04 Judge Mr. Buratti (I)